Treasure Box Curriculum
As educators, we all know how critically important it is for students to learn through play but we struggle with how to integrate it into the classroom settiing. The fast-paced environment, academic demands & constant assessments leave little room for creativity. At The Beautiful Stuff Project, we've created the Treasure Box Curriculum, a model for success that's efficient, easy to use & low cost, ensuring that play is on the classroom schedule regularly.
What began as an experiment with one teacher in the Somerville, MA Public Schools has expanded to serve hundreds of young students each week. Our growth is completely teacher-driven only growing because teachers directly request us to come to their classrooms. Our Treasure Boxes level the playing field because they're equally accessible to all children regardless of background, ability, experiences or challenges.
Let's Talk About The Treasure Box Curriculum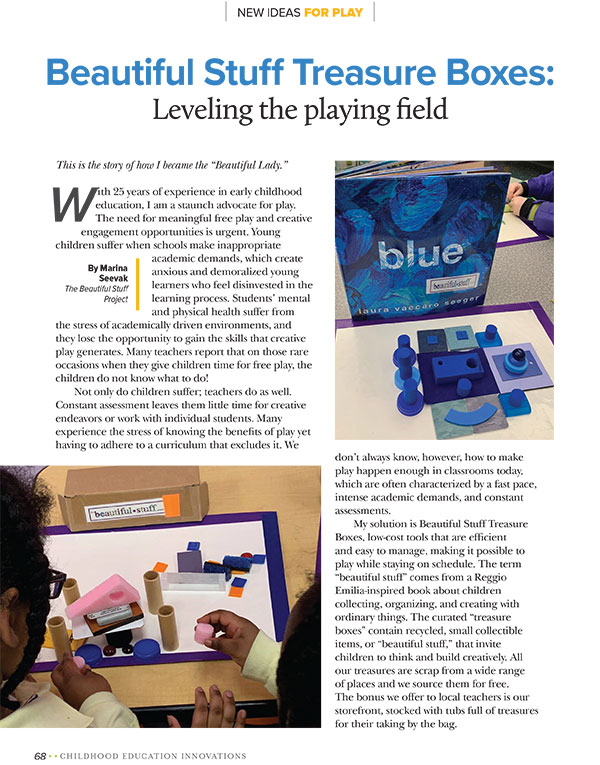 Childhood Education Innovations publishes article about The Beautiful Stuff Project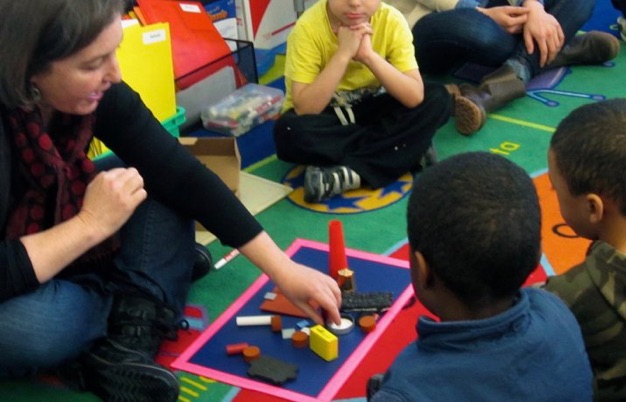 At TBSP, we value process over product & are highly intentional with how we curate our Treasure Boxes, strategically using recycled materials that acknowledge children's natural play inclinations insuring success. When first working with a classroom, we focus on explicitly modeling how to use a treasure box. We encourage careful exploration of each and every treasure, using our senses to discover materials along with how to play & experiment. We incorporate read aloud for inspiration, specialized Treasure Boxes that correspond to curriculum standards, observational drawing and journaling.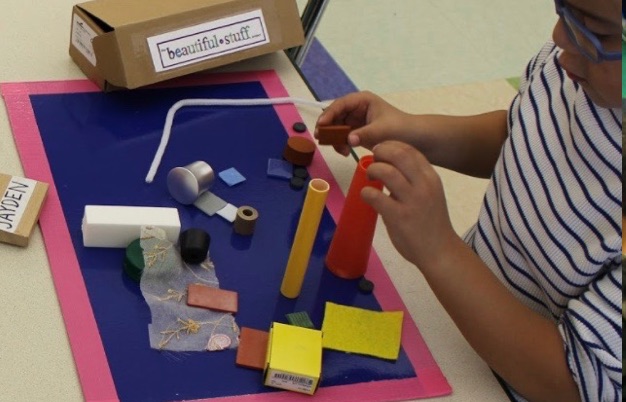 Inviting children to play using words like 'create' & 'make' leaves many openings for them to define the work. Will they build up? Will they lay things flat? Will they arrange a miniature house or design a fishing rod? This requires children to engage in critical thinking, searching for strategies to make these decisions. Rather than following given steps towards a predetermined goal, the child herself is challenged with a question of purpose—what do I want to do?—followed by a question of method—how will I do it? Thus, she is asked to both define a problem & then solve it. Beautiful stuff becomes a process of experimentation, a series of challenges, hypotheses, trials, & reflections. These problems may be mathematical, social, spatial, or otherwise, interwoven throughout the experience.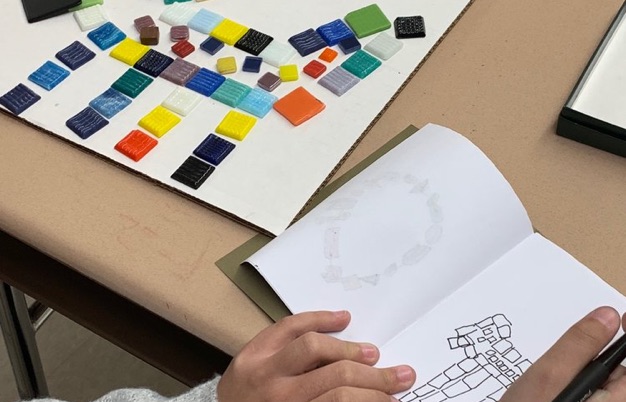 Imagine kids spontaneously practicing academic skills through play. A classroom environment where our youngest learners become powerful thinkers through exploration, investigation & creation. Where problem-solving is achieved through experimentation, prosocial behavior shaped through collaboration, & where everyday objects such as beads, buttons & boxes become charismatic robots, towering cityscapes, "battery-operated" flashlights & flying cars. We impact the dispositions of young learners. Our work inspires joy & thus is creating readier & more engaged learners. By implementing our curriculum at such a young age we are insuring more equity across the board.
Are you an educator and want to discuss in person professional development opportunities for your school or program?
"Watching the children explore, I see them doing many different things such as: sorting, trial and error, counting, symmetry, balancing. Very important concepts that they are doing, without even realizing they are doing them!"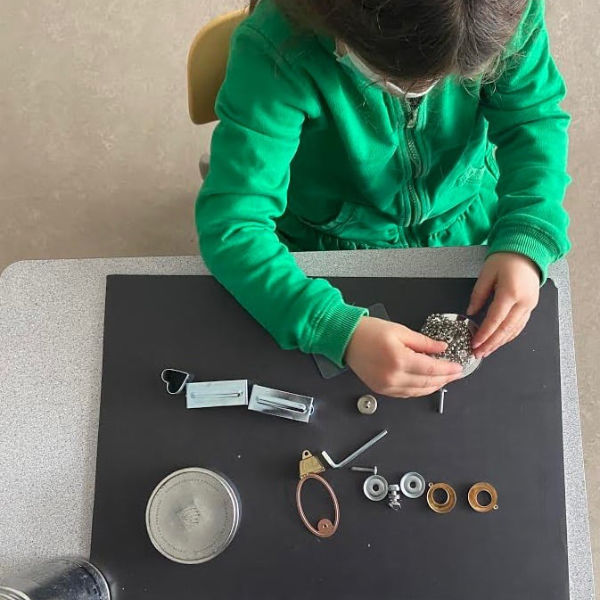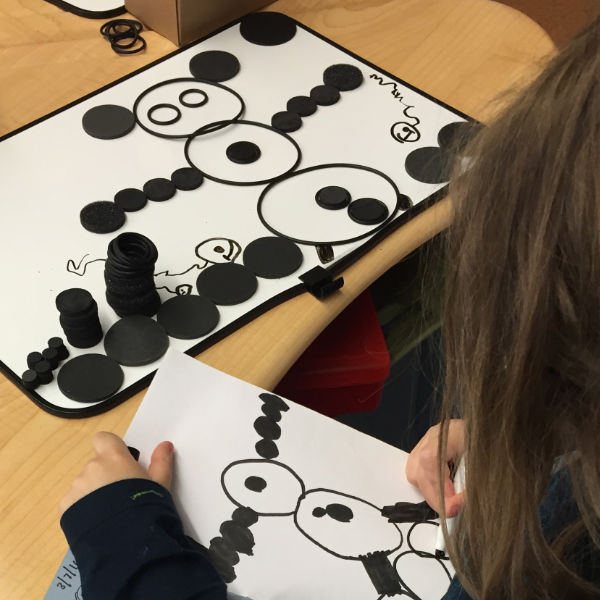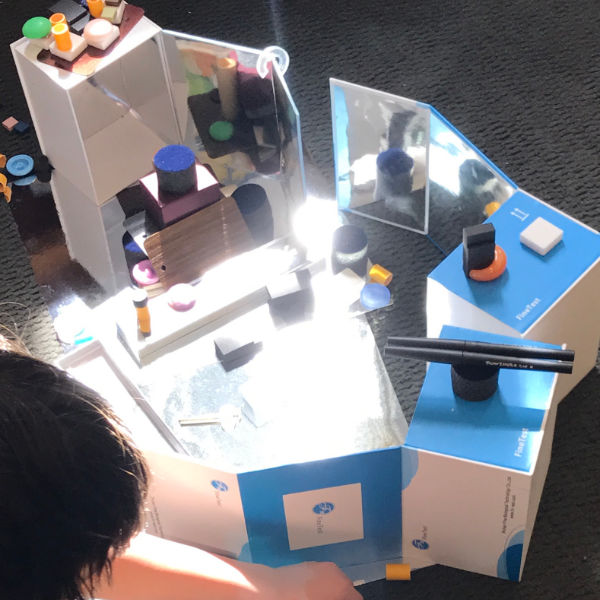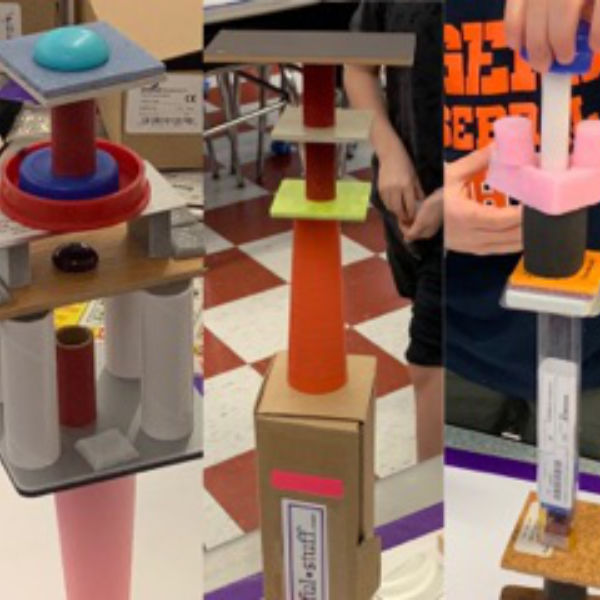 Looking for Resources?
Check out our library of children's books, articles, and helpful websites.